Good evening…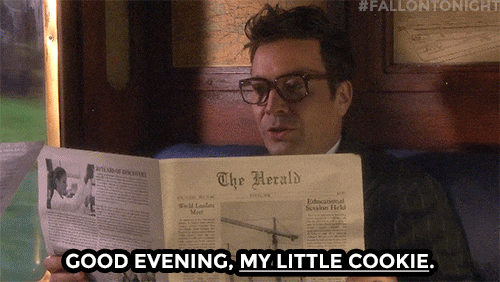 My liTtLe CoOkIEs!
I will forever be calling you guys cookies now.
Anyways, how has your day been? Did you eat a good meal? Did you drink lots of water? Did you get a chance to bask in whatever sunlight is left?
There isn't much sun over here in Michigan. Fall has most definitely arrived. We even got our annual "snow on the most unnecessary day ever" snowfall! (Halloween was the day) If you want to know, we did not go trick or treating outside as it was horribly chilly and wet. Blagh, being wet sucks.
But do you know what DOESN'T suck?
This amazing list of some of the best feelings in the WORLD!!
Some of these I found online, but most of them I thought were personally some of the best. Ever.
Ready to feel all warm and fuzzy inside??
Yeah, me too 🙂
---
Waking up on Christmas
Hugging someone you missed
Hearing your favorite song and blasting the volume
Laughing until you cry
Falling asleep to the rain
catching snowflakes on your tongue
Drinking tea in the morning
SLEEPING ON HOTEL BEDS (why are they the best??)
Getting a haircut
Making someone you love laugh
Hot showers after working hard
Sleeping in late
Wearing an outfit you love
Walking on warm sand after winter
Waking up to snow covering the ground
Going through old photos
Watching any Disney movies
Eating cookie dough before AND after putting them in the oven.
Having a good cry
Opening a box of pizza
Bonfires with friends and family
---
Now those are some all around pretty popular happy feelings. I'd like to share some of my personal favorite feelings I have experienced!
Getting 2nd place in my 4-H division
Getting my car last christmas
Getting up early to do chores at fair
Spending christmas with alllll my siblings and nieces and nephews
Getting to meet alllll my nieces and nephews
Going camping with friends and family
Buying steers (Oh yeah, I bought steers)
Feeling the grass under your feet
---
For now, that's all that I can think of, but I'll probably keep updating this post so keep coming back to check!
Oh, let me know what some of your favorite feelings or moments are and I'll add them to the list! If enough people want to add their memories or feelings to the list, I'll make it a separate page on the blog 😀
---
What are some of your favorite feelings? Do you have any special memories? Let's chat!